Support Charity with a great quiz, great music, and great prizes!
Quiz Live and America From Home proudly presents


The Virtual Pub Quiz Live on Zoom with Carl Matthews
Mondays - 2:30 pm EST
Enjoy a fully interactive virtual quiz live on Zoom with our host Carl Matthews. The legendary presenter who has hosted over 1000 events and will ensure you have a great time.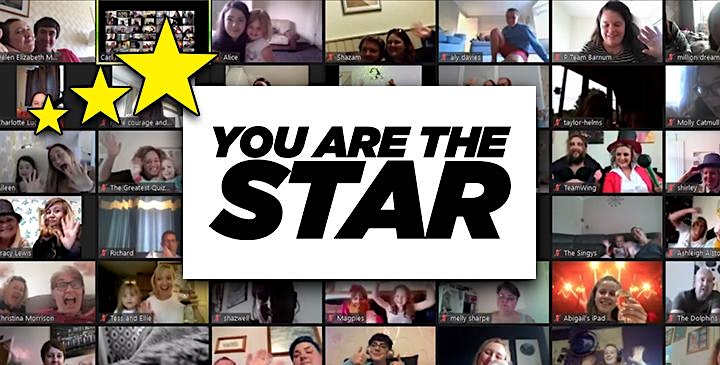 ⭐ You Are The Star ⭐
Take a seat in our Zoom room and take center stage as you answer general knowledge trivia. We describe our quiz as a "Gogglebox" experience because all of our guests are the stars of the show.
A webcam is recommended to fully enjoy the experience but is not required to enjoy the show.
🕒 Schedule and Access 🕒
After purchasing your ticket we will automatically send out email reminders for our events. The Zoom room will be open from 2:30 pm. You can access it either from the emails we send out or via this event page once the room is open. Free tech support is available until we start the quiz.
The quiz is scheduled to begin at 3:00 pm. Please note that times are based on EST. (Our show is broadcast from the United Kingdom at 8 pm).
👪 Family Entertainment 👪
Every trivia night is produced with good old fashioned family entertainment in mind. Many of our teams are families. In fact, our quiz nights have become a staple family tradition where everybody in the house can get together and enjoy themselves.
📱 Interactive Trivia📱
We use industry-leading smartphone app technology to allow you to play along with our trivia live. Each question gives you a 10-second countdown for your answer and then our host will reveal the answer and apply points in real-time!
For this, we recommend using two devices. One to watch our live show on Zoom, and a second to play along with the show.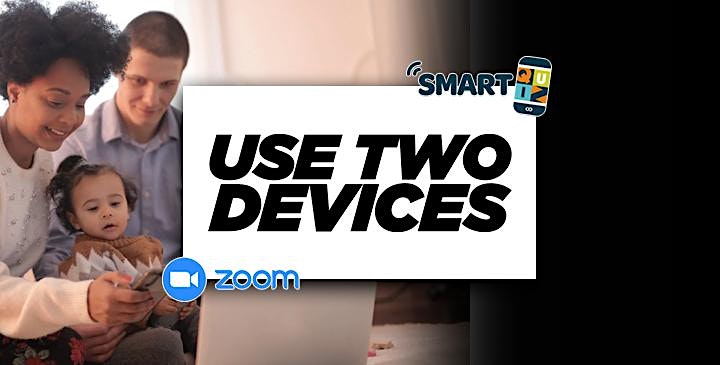 Find the apps you will need here:
Zoom - CLICK HERE
SmartQuiz App (Apple iOS) - CLICK HERE
SmartQuiz App (Android) - CLICK HERE
Full details on how-to-play - CLICK HERE
🎆 Exciting Rounds 🎆
All the content in our online virtual quiz shows are hand-written by professional content writers. Each quiz is produced by our resident quizmaster Damion. Most of our trivia are split up into several rounds including; General Knowledge, Music Round, Evil Round, Mystery Round, and Final Question.
If there are any changes to the usual format our host will tell you about them at the start of the show.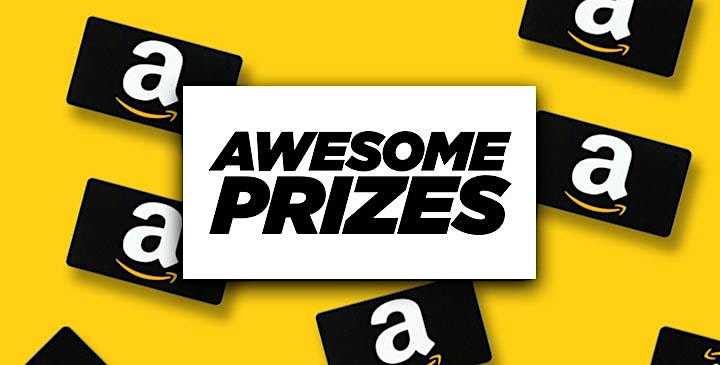 🏆 The Quiz Prizes 🏆
There are prizes for the top three places:
1st Place: $25.00 Amazon Voucher - spend on anything you want. (offered in local currency equivalent, exchange rates may change the value of this prize).
2nd Place: Quiz Live Coupon - Free entry to your next Quiz Live quiz show!
3rd Place: Minigame Ticket - A free raffle ticket to enter into one of our exciting minigames such as The Accumulator, CashSpin, and Music Bingo.
Cash Spin 
Before, and during, the live show you will have the opportunity to purchase raffle tickets.
The objective of this game is to guess the word/ phrase/ answer that is hidden behind boxes.
During the minigame, we will draw out tickets one-by-one. Each participant will be able to guess a consonant that appears in the puzzle. Then they will have a guess at the answer. If they are not successful, we will continue drawing tickets until someone answers correctly.
The winner will then spin the wheel to determine their prize. Most of the prizes are monetary. However, there are 3 special areas on the wheel:
Lose – The game ends and there is no prize
Draw – We draw another raffle ticket and they take the winner's place
Quiz – You win a free quiz entry ticket
Every other area is linked to a cash amount and the lucky winner could win up to $130.00!
Cash Spin is a game of chance that could result in a cash prize. By playing our minigame you agree to have the prize delivered via PayPal or Bank Transfer within 5 working days.
($130.00 US Dollars)


✅ Some Of Our Reviews ✅
"We feel so lucky to be part of the #Quizlive family....have been quizzing #CarlMatthews for over 4 years at different venues. During lockdown, the online live quizzes have been our highlight. Carl and his team deliver fun family entertainment in a friendly, polite and all inclusive personal manner with lots of exciting twists. For us, Carl is impossible to beat as a quiz host. Thanks #CarlMatthews and team for all your hard work." - Jane P (Facebook)
"Could go on about how good this quiz is but you'd be bored reading it in length.
Get on it. It's ace!!" - Anthony H (Facebook)
"Absolute brilliant quiz nights, loads of fun is guaranteed. Theme quizzes, general knowledge and also a special kids quiz. This is truly fun for all the family." - Paul D (Facebook)
🌍 Find Us Online 🌍
Website: QuizLive.co.uk
Facebook: @QuizLiveUK
Instagram: @QuizLiveUK
Join our Online Community and take advantage of additional benefits:
Receive discounts off Virtual Events Supporting Charity admission tickets.
Get event updates and follow topics of interest.
Contribute posts and attend exclusive prize draw events.
Tickets: $4.00 to $7.00
Check your inbox or spam folder for an email with the event's Zoom link.
Email info@americafromhome.com or call 408-634-HOME (4663) if you have any questions.
ℹ Additional Information ℹ
All of our shows are recorded for training, security, and with the intention to edit and produce a television-styled show to be broadcasted in the future. By purchasing tickets and participating in our virtual quiz shows you agree to our use of the footage for these purposes. If you do not wish to feature in the final edit of our show please send an email to info@quizlive.co.uk with the date of the show you have played.